We offer a temp cover during the storm season and to our valued clients when a leak is found on their roof.
Throughout the storm season during winter and the hurricane season we get thousands of calls from home owners like you with leaks in your roof. While our past customers rarely need to call us, things do happen and you can rest easy knowing that Kapili Roofing is prepared.
Kapili Roofing is a preferred vendor for Insurance Companies during the rain season. Many insurance companies ask us to respond directly to their insured clients claims to immediately stop or slow the impact of a leak and protect their clients homes!
Quite often during the storm - which can last days or even weeks - roofing crews cannot work to stop the leak. Our crews cannot typically do the proper fix while it is still raining. Roofing products usually work best when it is warm an dry. This helps the products get the longest lasting seal. So in many cases what we are doing is providing a temporary fix, called a "temp cover".
The best time to address a leak is before it happens. The next best time to stop a leak is once the rain has stopped.
What is a Temp Cover?
A temporary cover is just that, a non-permanent fix to help minimize the effect of improperly installed or damaged roofing systems. A common cause of leaks is wind damaging or making worse existing vulnerabilities in your roofing system.

Can you Stop the Rain from Coming in my Home?
Yes and No. We have had customers request a temporary cover service, and we have drove by their houses a year later to see they are still relying on the temp cover. While this is entirely possible it is NOT best practice. In many cases a temporary cover can only SLOW DOWN the water from coming into your home. We have all the best practices for installing temporary covers .
A temp cover is not permanent and is not a guaranteed fix. The purpose of a temp cover is to provide as much protection from water intrusion possible.
Here are some examples of Temporary Covers we installed in January of 2021.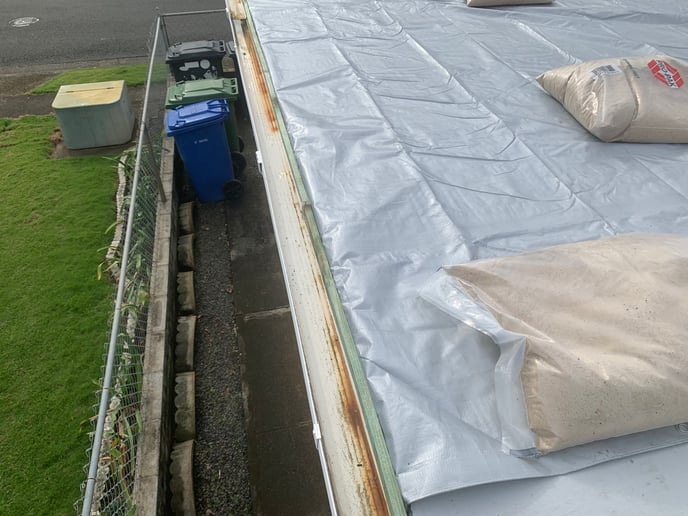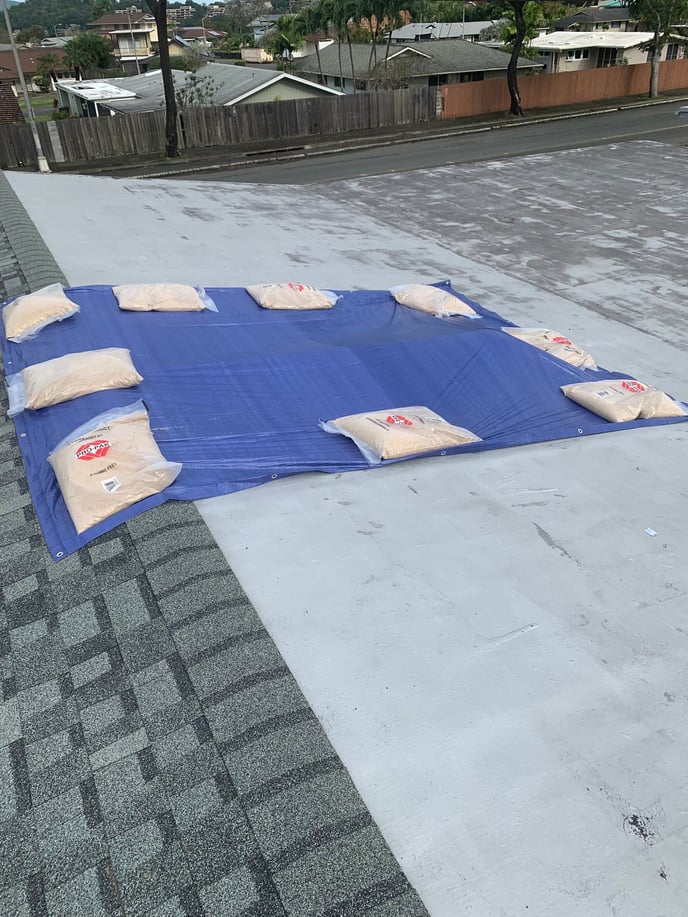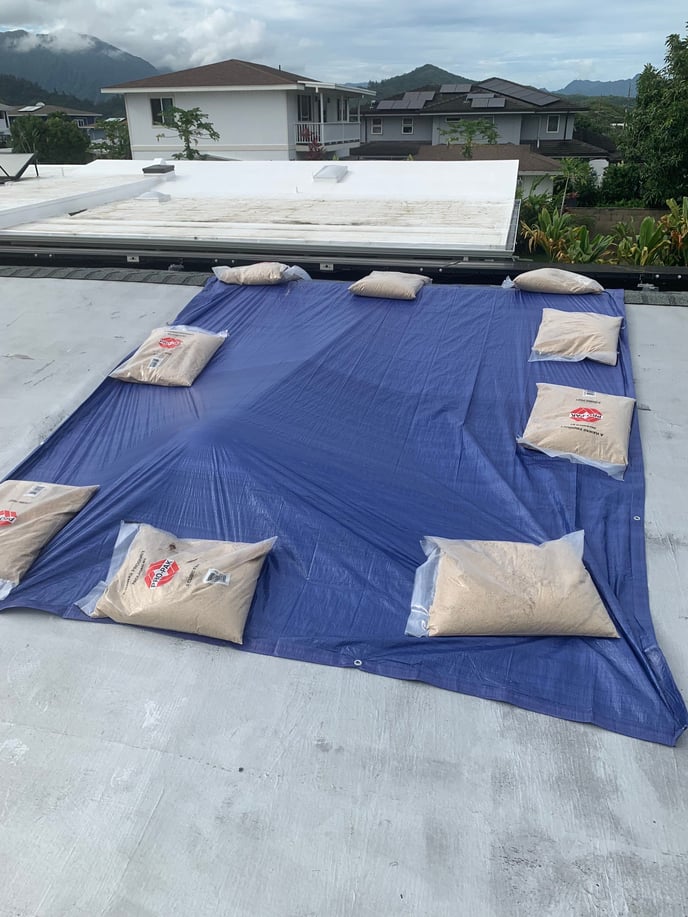 What causes a need for a Temp Cover?
Great Question, but there are many answers. The weather on Oahu can be extreme and so can the damages done to our Ohana's homes. The wind can even blow off material that was sealed down with a Torch. The best thing to do is call us and let us come help you diagnose the leak, propose a solution, and slow down the intrusion of water until the best circumstances arise for us to properly fix your roof and provide your roof with a proper repair for a long term solution.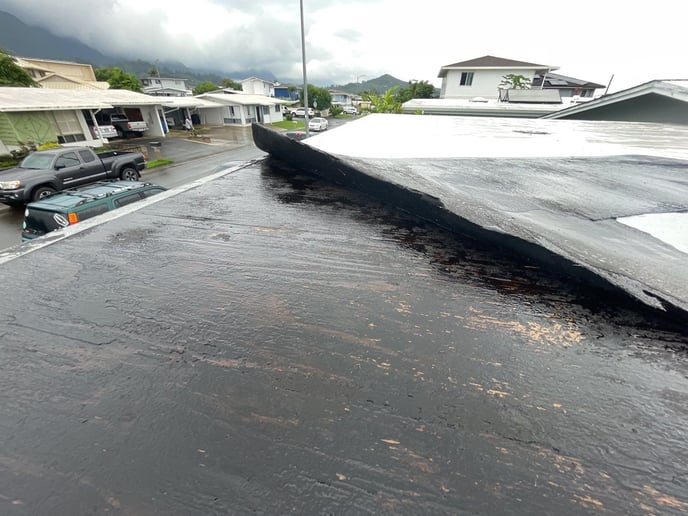 Can I install my own Temp Cover?
We do not suggest attempting your own temporary cover. Carrying heavy sand bags up a ladder, and maneuvering big tarps in the wind on a slippery roof is DANGEROUS and should only be attempted by a qualified and experienced professional with the right training, equipment for ascending roofs. Even if your roof is not very steep, a flat coated roof is very slippery when wet. If you have a leak on your home call Kapili Roofing for an affordable and effective temporary cover and a proper diagnoses and proposal for repair after the storm is over!
Do not attempt you own temporary cover during a storm. Working on a slippery roof in the rain is very dangerous and should only be attempted by experienced professionals!
How much does Temporary Cover Cost?
The temporary cover price depends on the level of difficulty and the size and scale of the leak. There are other factors to consider such as if the temporary cover could trap moisture or direct water to another vulnerable area such as a skylight or roof valley. The best thing to do is contact one of our estimators for more information.